The City of Manteca recently broke ground on construction of California's first Diverging Diamond Interchange, at SR 120 and Union Road. The Diverging Diamond Interchange, commonly abbreviated DDI, is a cutting-edge design that reduces conflict points between vehicles and moves traffic more efficiently through the interchange. DDIs have been gaining popularity throughout the United States since the early 2000s, but until now, one had not been constructed in California. The DDI is unique in that traffic on the freeway overpass is shifted to the left side of the road, before being shifted back to the right. The graphic below illustrates this movement.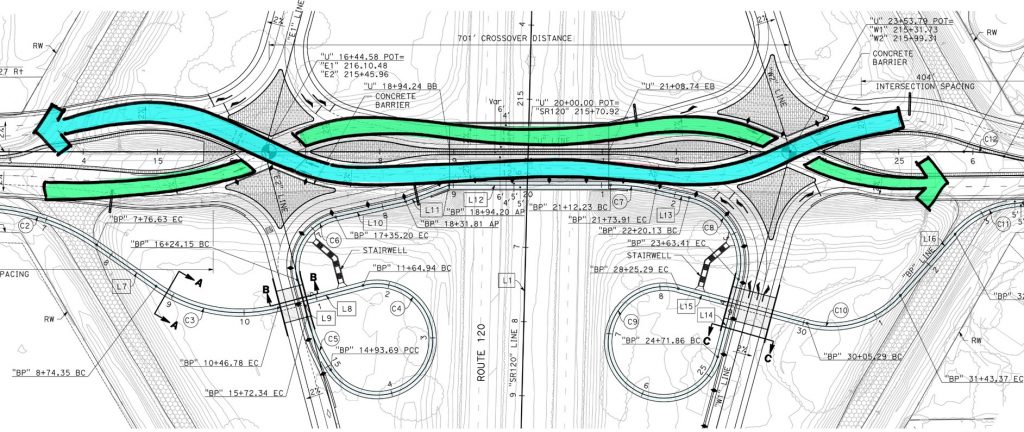 Construction of the DDI at SR 120 and Union Road will modify the existing interchange to add additional traffic capacity and improve operations. As the prime consultant in charge of design of the modification, Mark Thomas worked closely with the City of Manteca and Caltrans to gain project approval for the DDI. Caltrans guidelines and approval processes were being developed as design work on SR 120/Union Road Interchange progressed, so we partnered with Caltrans District 10 and Headquarters to gain acceptance for the design.
Mark Houghton, City of Manteca Public Works Director, noted "In fact, Mark Thomas staff worked collaboratively during the early design stages of this project with both state and federal engineers to not only design this project, but also drafting what are now adopted standards that will guide the development of future similar interchanges".
We also developed the concept for a grade-separated Class I bike path through the new interchange. Union Road is a key crossing of SR 120 in the City's bicycle master plan, and there is not currently any sidewalk or bike path through the area. The new Class I path will provide a 12-foot wide grade-separated trail that eliminates all bicycle/vehicle conflict points within the interchange to provide safe and efficient passage for bicycles and pedestrians. Mark Thomas designed a similar path through the US 50/Watt Avenue Interchange, shown in use below.

Learn More
The SR 120/Union Road Interchange project is currently under construction and is scheduled to be completed in 2021. For more information on the project, please visit http://www.dot.ca.gov/d10/x-project-sr120unionroad.html.